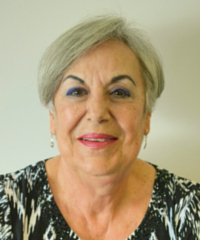 Laurice Mussallam
Church Administrator
Laurice Mussallam has been part of the Westminster family since 1992. She began her position as Westminster's Church Secretary in October 1999 and in 2004, Laurice became Church Administrator.
Laurice works with the Minister, Clerk of Session, Director of Music, and all Teams and Fellowships to ensure the smooth flow of congregational activities and business. She also works with the Administration Group to coordinate the activities of maintenance and repairs to the building, arranges for annual inspections, contracts, insurance, and oversees all other issues related to the cleanliness, tidiness and well being of the Building and Grounds of Westminster. In addition, Laurice, welcomes visitors to the Church, shows them around, and arranges bookings for space use by members of the congregation and groups.
Laurice is also a very active member of Westminster participating in Gilead Choir and many other congregational events and programmes. She is married to Atef Mussallam and has two sons and six grandchildren.